If you are in need of a top-notch Social Media speaker, MidAmerica Speakers Bureau has you covered! I'm ready to travel to any location, so please contact Barry and Tyler Carlson to book me for your organization's next event. For more information about my speech topics and/or to request me as a speaker, simply click on the logo below: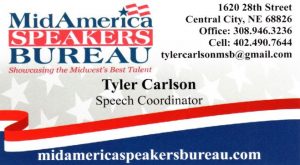 Or copy and paste this url into your browser
http://www.midamericaspeakersbureau.com/bitter.htm
Let MSB help make your next event a MAIN event! Whether it's training, consulting, motivating, leading, team building or keynote addresses, we have a professional speaker to fit the bill. We have a range of speakers charging a variety of fees dependent upon location, dates, size of audience, etc. Contact us for prices.